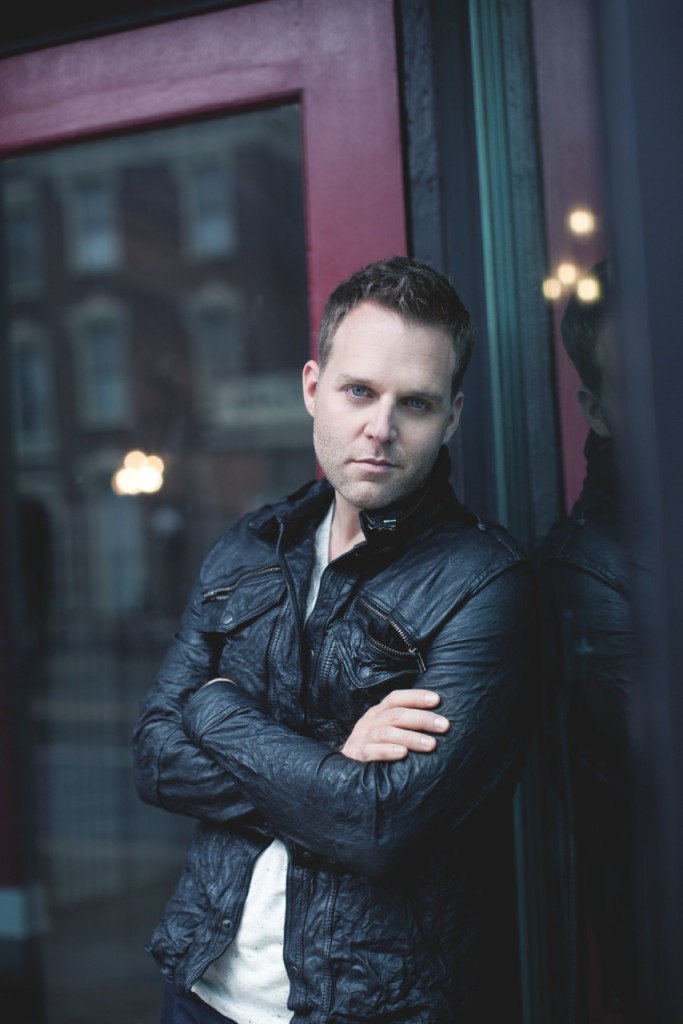 Several years ago, when Matthew West invited people to share their stories to serve as inspiration for an upcoming album, he had no idea it would be the start of an amazing journey that would forever change his music, ministry and life. Armed with more than 10,000 stories from fans all over the world, the floodgates of inspiration opened and West crafted a landmark album, The Story of Your Life. Suddenly people were given a voice and a chance for their stories to be heard. It started a powerful wave that continues with even greater momentum on West's new album Into the Light.
"On every level it has been the single most fulfilling thing that I've had a chance to be a part of in my career," West says. "It's just the added element of emotion that I feel by having a chance to be a part of this person's story and to share their story with an audience. Something really special is taking place and I'm along for the ride for as long as it needs to go. As long as those stories come in, I think I'm going to keep making these kinds of records."
I ran into Matthew at a recent festival and we decided to talk over what has been happening in his life.
John:               Matthew, on your album The Story of Your Life you had letter after letter, story after story filling you with ideas for a new record. You went back to all those letters that were written to you and continued to go through that process of writing songs based on what people were telling you.
Matthew:       Sort of, yes.  Well, what's interesting is instead of going back to all the stories that I had read, the stories never stopped coming in, and so I really didn't plan on making more than one record of songs inspired by peoples' stories, but what happened is, after the first 10,000 or so came in, I release The Story of Your Life, which had songs like "My Own Little World" and "Strong Enough.
What I began to notice is that as one story is told, two more were coming out and saying, "Okay, I want to tell my story now," and people just began to come out of the woodwork, and at my concerts, it still happens now, at the end of a concert, I'll go back to the bus with a handful of handwritten stories, and I began to just really feel it press upon me that what was happening by not just putting out a CD, but to put out a CD of songs really putting a new emphasis on, hey, these are the every day true stories of peoples' lives was beginning to stir something within people, and it really kind of began to refine what I feel my calling is, which is to encourage and empower people to realize that God has a unique one-of-a-kind story that He's telling through each and every life.
In the last three years, we've received well over 25,000 stories.  In fact, I was just showing my friend this morning some new stories that had just come in, so I can read stories every day, and in many ways, this has just become … it's not really volume two or volume three.  This is just part of my process now, and I've made a promise that as long as people share their stories with me, I'll read their stories and turn as many of them as I can into hopefully inspiring music that will challenge and inspire other people.
John:               Matthew, when read the stories, do you ever feel like a huge weight on your shoulders?  I mean, do you feel like, "Oh my goodness, these people are just pouring their hearts out to me."  How do you …
Let me just backtrack a year.  A friend of mine, he works in the ER, and there is a process you kind of have to go through as … things, for different patients that were kind of coming in that didn't go the way the family were all hoping it would go.  I'm sure you encounter those same type of situations where you're getting a story that is just like … this is wrong.
Matthew:       Yes.
John:               How do you deal with that?
Matthew:       I think it's funny you mentioned someone who works in a hospital, or I think at one point in time, we could all say we've had a doctor that maybe didn't have the best bedside manner, or maybe they seemed cold or distant, and I think I've begun to understand how maybe there is that need for a doctor to separate his own personal emotions from a heartbreaking story because he's seeing it so often.
And yet, what I've noticed is in my reading, as a songwriter, you're not a good songwriter if you're not completely connected with all of your heart when you're writing that song.  I'm not really afforded that luxury of detaching myself from any emotion.  I have to be running full-speed ahead towards that and embracing what people are writing to me, and I think the only way I can really answer how that's been able to happen is just I feel like God has really given me different eyes to see these stories.
What I mean by that is the vast majority of the stories that come in, I'm not going to lie … people will … what I've realized is when you ask somebody "What's your story?  What was the defining moment in your story?" very few people are going to point to the money in their bank account or their college diploma or what kind of puppy they had when they were growing up.  Instead, they're going to talk about some of the most difficult moments of their lives or their battle with cancer, or their financial trouble, or their marital trouble, or the abuse they suffered as a child.
You're exactly right.  One by one, I've read stories that can be seen as heartbreaking, and yet somehow, some way, and this is no joke, in every story I read, what I can sense is God is still at work, and just in the fact that that person wrote to me, even if that person is writing to me saying, "I'm struggling to see where there's any hope in my story," the fact that they're writing means that they're searching, means that they're reaching out, and so while it may be at different stages, God is at work in each and every one of these stories, and his work is not finished yet.
I really feel like my job is to extract the hope from these stories and to be accurate and authentic with what I'm writing about.  For example, there's a song on my CD.  It's called "Two Houses" inspired by a teenage girl who's dealing with the reality that her Dad just up and walked out, and now she's having to go back and forth and learn what life and love and trust and all those words are starting to kind of be redefined for her.  Well, I'm not going to just tie a bow on that story and just make it neatly wrapped like the end of a Brady Bunch episode, but I want to be authentic and real and genuine, and yet just as real with the pain, I want to be just as real and authentic with the hope that I believe we all have no matter where we're at in our stories, and that hope comes from one source, and that's the hope we have in Christ that he somehow, some way, works all things for the good.
John:               So life is not summed up in a Brady Bunch episodes.
Matthew:       It is not, and I'll tell you what, I'm 25,000 stories and counting.  I'm reading, and I'm realizing that, man, people walk in the doors of the church, and everybody's trying real hard to act like they've got it all together.  These stories I've read, I didn't advertise that I was collecting stories in People magazine.  There were no posters in bars downtown.  These were people who walk into family Christian stores.  These are people who listen to Christian radio stations or go to church on Sunday, and yet they're carrying some pretty heavy weight.  They're carrying some difficult parts of their story, and many of them are struggling to figure out how to move on and how to find healing for those broken places in their story.
In many ways, I feel like these songs that are coming out of the experience have become sort of a soundtrack for broken people and kind of realizing that, man, there's community here, and it's not the fake "everybody's got it all together" community.  What if it was, "hey, we don't have it all together, but we all have a story to tell, and we realize that God loves us, and he's not finished with our story yet."  That's what fires me up to make music this way.
John:               You're a dad … are you a dad?
Matthew:       I am a dad, yeah, two kids.
John:               You're married.
Matthew:       Yes.
John:               You're …
Matthew:       You've got … like how many kids do you have?  Like 12?
John:              You're a successful singer/songwriter.  You're nationally known.  Your face is on a can of Pepsi (so is Franny's, Matt Maher's, and TobyMac's - but still!).
Matthew:       (laughs) Yes, it is.  I'm infamous, as the Three Amigos once said.
John:               Infamous.  When … talk to the average Joe who's just … you know, he's living life, and maybe he's married, maybe he's not.  Maybe he's a single dad, single mom, whatever, and college student, just trying to get through life, and looks at you and says, "Oh yeah, Matthew West, man, he's got it all together.  If only I could be like that guy."  I mean, how do you live your life on a day-to-day basis, because we know that, you know, being up on stage is not necessarily … that's not life.  I mean, it is who you are, but yet at the same time, how does someone like in your shoes pursue Jesus.
Matthew:       To start off answering that question honestly, I would say that I've lived much of my life trying to present an image to people of not imperfection but that I've got it all together.  So here's my story.  I grew up as a preacher's kid and felt an intense pressure as early as I can remember from the people in the church who were looking at me and maybe holding me up to a higher level of expectation, a higher standard, and I constantly just felt like I was living in a glass bubble, and everybody was watching me.
No lie.  I got to this point where like I felt like I could manipulate and act a certain way.  I knew how to look and talk and act and say all the right things.  I knew that if I … I wrote about this in my book recently that I knew if I raised my hand to worship during the slow song in church that because I was in the front row that the ladies … yeah, everybody behind me would go, "Oh, okay, he's okay."
I saw that as a way of, like, one, that's a dangerous path to be on, because the authenticity continues to get edged out of your life, and the presentation becomes much more important, much more significant, and then that's just an open door for sin to creep into your life and for you to realize that you can cover and that you don't have to be the real deal as long as everybody sees you as the real deal.
Honestly, reading the stories that I've read, they've actually challenged me.  Instead of me getting up on stage and wanting to present myself to somebody who's got it all together, because guess what?  That preacher's kid grew up to become a professional singer.  And what do we do?  We're on stage all the time.  And what do we do when we're on stage?  Air our dirty laundry?  No, we want to sing well, and we want to look good, and we want to perform.  We want people to applaud us.  These stories have begun to challenge me to realize that's not what it's about.  It's about being authentic, it's about being real, and it's about telling your story.
One of the things that I share from the stage is one of the things that God's begun to teach me in my life over and over again is that a long time in my life I've spent holding up parts of my story to God, and saying, "God, here, you can use this part of me," and so I would pick what I think are the best parts of me, and I would put only that under his care.  What these peoples' stories have taught me and how good things have come out of broken beginnings is that all the while God's looking at me and everybody else who tries to make everybody think they're perfect and saying, "I know about your good stuff.  I'm the one who gave it to you.  Give me all the rest.  Give me the worst mistake you've ever made.  Give me the junk in your story and watch me work something amazing out of it."
I guess one of the songs I'll be singing on stage tonight is called we are the broken.  That's kind of like my anthem of going, "I don't want the audience to look at me and see someone who's got his act together.  I want them to see somebody who's realized that we're all the same, we're all broken, and yet God somehow isn't done with us, and when we show the world that we're broken, the worlds not going to look at us and applaud us anymore.  They're going to look at God and say, "Wow, God changed his life?  Maybe he can do the same with mine."
John:               Why do you think people are so apt to putting on a mask?  Why do you think followers of Jesus … we can understand that maybe somebody who does not know Christ, why they would put on a mask, but I mean, the Gospel calls us to be secure in Christ, but yet at the same time, we are scared to death to expose ourselves to our brothers and sisters in the church?  Why is that?
Matthew:       For one, I think that's one of the reasons why somebody who doesn't have a personal relationship with God would be turned off by the church, and I've heard a lot of people say that.  It's like, "Man, Christians are two-faced," or "They're not authentic," and I think we could all agree that there's times where I see more what looks like authenticity in the world.
John:               Right.
Matthew:       People that aren't going to church because they're not claiming to be anything, do you know what I mean?  I think one of the things that my dad always shared with me that has stuck with me my whole childhood and now where I'm at today because I grew up in church, and at times, I would be hurt or offended or turned off when I saw somebody who out of their mouth was claiming to be a Christian but by their lifestyle and the way they acted and the way maybe they treated my dad or my parents, they didn't back it up.  It felt like it was two-faced or a double standard.  My dad always said to me, "People inside the church, they're just as flawed.  The church is filled with broken people who don't have it all together, and so you can't let your relationship with God be defined by other Christians.  It has to be between you and God, because people will always let you down."
Yet, I think one of the things that I notice, and I travel around churches all the time is I see that sign on the door that says "Come as you are," and yet when you walk inside, it oftentimes doesn't feel like the people really believe that.  I think that's one of the missions that I'm on in having people tell their story is that one of the enemies greatest tricks in our lives and tools is isolation.  If he can get us to feel like, one, you're messed up, and two, you're the only one.  If you get that in your head, you start to go back into the shadows, and you start to retreat, and what you do is you retreat in the shadows, but you still have to function in every day life.
You come to church, but your heart, your soul's still in the shadows, and you clean yourself off so that nobody will know that you're in the shadows, and there that isolation goes, and I know that all too well, and that's why I feel like I'm encouraging people to tell their story because I feel like when one person steps up and says, "All right, here's my story, no more mask," it draws other people out into that light just like that person saying, "I want to find the freedom that that person has."  How else do you explain 10,000 stories becoming 25,000 stories, becoming what I believe is going to be a million stories?
It's not just about a million stories.  It's about the fact that we're going from a story-haver to a story teller.  We're going from being a Christian to being a disciple, you know, to being somebody who believes in you're head that you've been set free to somebody who's willing to really step into the light and say, "I'm so set free and I've found such freedom in my life because of God that I'm willing to let him even use the not-so-good parts of my life."
When that starts happening, a powerful thing takes place in our world, I believe.
Here is one last story to illustrate that, and it's a story of a woman named Jenny, and she wrote to me, and she said, "I've never told this to anybody before, but I heard you in a conference talking about telling your story and finding freedom."  And she said, "Thirty-five years ago, I was a scared teenager, and I got pregnant, and my boyfriend at the time didn't want anything to do with me or the baby, and I was too scared to tell anybody because I was afraid I'd be judged."
So she terminated the pregnancy and never told anybody.  For 35 years, never told anybody, but that isolation made her feel separated from God because she just felt so much shame in her life, and she somehow just felt like, "I need to set this free," and maybe she felt like sending her story to a complete stranger would be a safe thing.  In fact, I called her and I said, "Why did you send it to me?" and she said, "I never thought you'd actually read it."  But I did, and I wrote a song about it called "The Healing Has Begun."
That woman in the progression in her life to me is a beautiful example of what can happen to all of when we stop wearing the mask and when we step out of isolation and begin to seek out community and mostly communion with God, is now, she just finished her training, and she's a counselor at the crisis pregnancy center in the town where she lives in.  You see how God is uniquely redeeming her story.  That's a full circle.  No more mask.  No more isolation.  After 35 years of feeling weighed down, she's found freedom and joy, and now she's seeing a purpose even for that most difficult part of her story.
That's an example of what I'm hoping to encourage people, and not just other people but myself to walk in that and to realize that, man, God's going to change your story.  He's going to heal your most broken parts, and he's going to use it in powerful way if you'll let him.
John:               Awesome.
For more from Matthew West, click here.