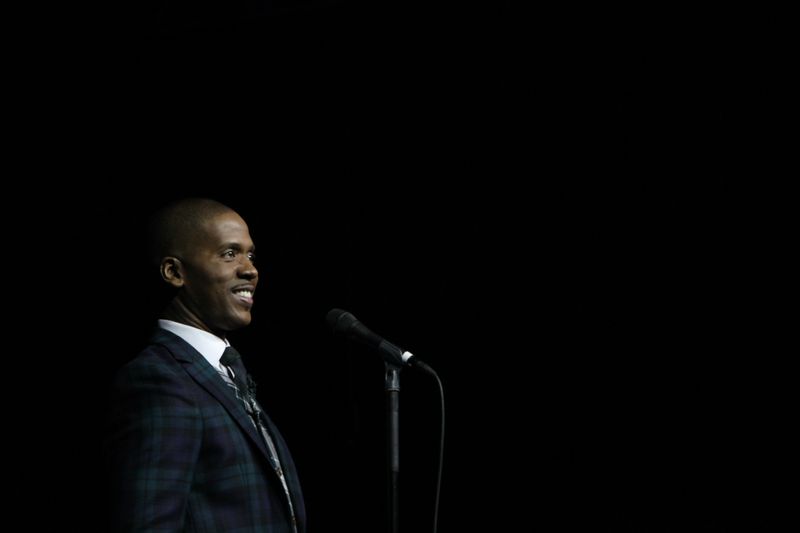 The man who wears many musical colors...
Those seven words eloquently capture the multifaceted essence of who Donald Lawrence is. He is a songwriter. He is a producer. He's a composer, a music/choir director, recording artist, and the list goes on... The guiding force behind such No. 1 hits as "Encourage Yourself," "Back II Eden" and "The Blessing of Abraham." Equally at home in both the inspirational and contemporary arenas, the multiple Grammy and Stellar Award winner has collaborated with a diverse roster, including such marquee names as Karen Clark Sheard, Donnie McClurkin, Kirk Franklin, En Vogue and Mary J. Blige.
The question is, "What is behind the eyes of such a talented man of God?" I sat down with Donald in search of the answer for that question in particular.
John: Donald, I personally appreciate your history within our industry and the amount of talent and records that you have brought forth to encourage people in their walk with Christ. I'm wondering, Donald, if you'd be willing to share a few moments about how you were introduced to Jesus, or at least how you began your walk as a follower of Him.
Donald: Okay. I think that we all have different journeys when it comes to our Christianity, our relationship. Me, I was brought up in a Christian household, so I've been in church since I was a little baby. I can never remember not ever being in church. I think you grow, and as you grow and as you mature, you look at your relationship with Jesus Christ differently. I can't say I remember one particular time when I became a believer, because I never ever remember not ever being in church. Church was just part of my upbringing. It's a part of my culture.
However, I think that as you mature, you realize your purpose, and I think I started realizing my purpose when I was in my late teens. I realized that there was a calling on my life to do what I do, to inspire people, to help people live a better life based on biblical and spiritual principles, and that it was going to come through the music. And it has turned into something else as I matured, and I'm learning that, and I'm still learning to see my path as it continues to open up and becomes more visible to me.
I would definitely say that me learning my purpose is really what I call the beginning stages of my relationship because that's when I knew why I was put here. I really believe that everybody who is born, God sent here for a reason. The biggest reason is to restore the earth and to bring people back to Him. Once I learned that, that is what I considered, and still do, my connection, because then I know what my job is to do here. I would say definitely that was in my teens; since then, it's just been listening and following my heart. God is in my heart, and that is just why you still have me here doing what I do now.
John: Don, you're a singer, a songwriter, a producer, a composer and a choir director. You are the epitome of a recording artist. When somebody looks at your life and says, "I want to be like that guy," what would you say to them? Let's say to someone who is in high school or college who says, "Hey, I want to … I feel like God has given me that purpose, that sense of direction, and I want to move into that same type of calling that Donald has."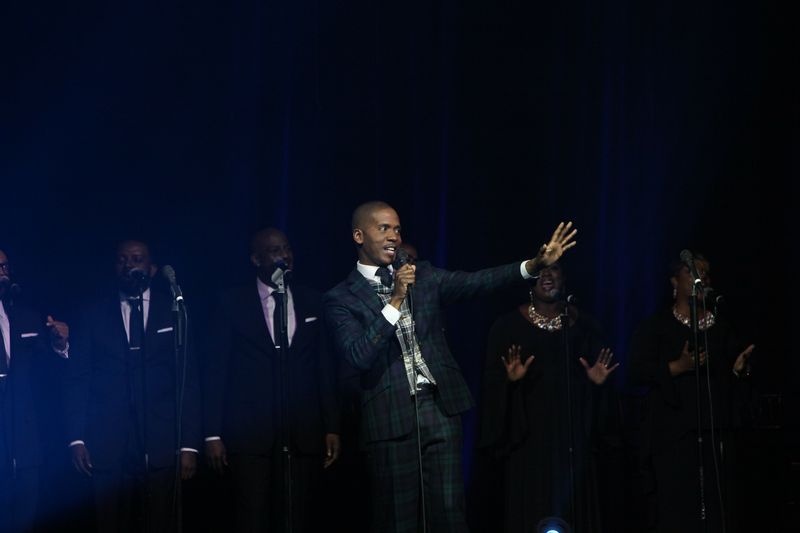 How would you communicate with that person in their walk?
Donald: I would really tell them, based on what I'm doing now and what I've studied now, that I do think that there are people who inspire us, that we may see ourselves in them, but we all have our own individualized grace, and our grace is our gift. So if you have a calling, if you have a gift in you, it might be similar to mine, but God has stylized us all to have our own thing. You'll see people that will inspire you and make it wake up, and then you have to learn what your direct path is. What I would tell everybody is when you awaken and you realize that there's this gift and it's likened to someone else's, let that inspire you, but listen to God because I think He's given us all people that are assigned just to us and things that are assigned just to us. Listen and follow your heart, and don't let anybody tell you or anything make you doubt what you know has been called on your life.
I think that's the time that we live in now that because, especially in the music business, because somebody thinks that this work, they'll come to you and say, well, you don't need to do that. You need to do this like that person, but that's not my grace. My grace is to do this, and we have to trust the grace that's been bestowed on us. If you do that, if you honor that, God will find ways to open up doors and paths for you that nobody can even close and nobody would even have thought of, and I've just learned to trust the grace that's been put on my life, and that's what I would tell anybody. Just be you. Be who God ordained you to be, and trust it.
John: Donald, you sound like a theologian. You sound like a pastor. Do you feel like at certain times, God has called you into that ministry as well?
Donald: No, I really don't (laughing). I know that's usually the typical thing that people will say when you can speak like that, but the one thing that I do feel like I am directed in is what I kind of think like would be more of a spiritual therapist. I think my music is like revelation music. It's spiritual. It's biblical principles and song, but it teaches you kind of how to live from Monday, Tuesday, Wednesday, Thursday, Friday, Saturday with real life situations; so if there was anything that I would ever do, it would be a center where people could go talk to spiritual people like a therapist that maybe had a music component, so I see myself being more of a spiritual teacher, more of a person that is like a spiritual
psychologist or with a music element. That's how I see myself.
I don't see myself as a pastor. I don't think that's my path. I don't think my path has ever been a normal path. It's always had its own odd road, and that's what makes me uniquely me, and I just kind of know that, so that's why. I know that pastoring is what it seems like it should be, and counseling and pastoring is very much the same thing. I just don't see myself with the church, and with the choir, and with the band, and with the praise team, and with anything like that. I don't think that's my path. I know that's not my path, but I do think that being a spiritual teacher and a person that teaches people how to use biblical principles to live life every day is in my path but not the way somebody would think it would be.
John: Donald, you have a new recording out called Best for Last. You've recorded basically
a day and a half, and you decided to put one album out this fall and another album out next spring, correct or am I mixed up here?
Donald: Actually, one in the fall and one next fall like …
John: Oh, a year from now. Okay. It's Best for Last volume one and then volume two?
Donald: Best for Last: Donald Lawrence 20 Year Celebration, Volume One, Best for Last. Volume two might be titled something else like Donald Lawrence Celebration Continues, and then another title cut, but volume one definitely comes out September 24th. It's featuring a lot of people. Actually, the title song, "Best for Last," features Yolanda Adams, and I have a lot of guests who show up and join me: Kelly Price, Lalah Hathaway, Faith Evans, Hez Walker, Vanessa Bell-Armstrong, Natalie Grant, Karen Clark, Kierra Sheard; just a lot of people join to come in and celebrate with me these 20 years because I've worked with so many people. It was great to have a lot of them come back, and we're going to still do it. Tri-City came back together to sing two songs on volume one, and they're coming back together again to do more of a live thing on volume two, so we're really excited about all of that.
John: I'm glad that you brought up all the guest appearances that you have on the records. You certainly have worked with a lot of artists through the years both within the gospel community as well as out in the mainstream community. What is that like being a man of God, and how do you stay faithful to your calling and your purpose even though you may be doing a job per se out in just secular culture or mainstream culture?
Donald: I think that everybody that's on this planet does a job in secular culture, just about. If you work at McDonald's, that's not church. The post office is not at church, so secular culture is secular culture. Sometimes people put a different law on top of it when it's music. I think sometimes people don't think of music as an occupation, but what we have to realize is that when you have a call on your life, your call is for you to deal with whoever is assigned to you; and where some people might be assigned to more believers, there's some people who are assigned to believers and people who potentially will be believers, people who are believers who are not necessarily inside the church.
For me, I don't look at it like that. I look at it as people, and God loves the whole entire world; so when I'm working with people, I just show them the love of God. That's it. I don't beat them over the head with a Bible. I don't tell them what they're not doing right or wrong unless they ask me my opinion. I just show them love, and love draws. I've learned that over time, so that's how I can go work with anybody, come back out because when I go there, I'm going to be me; and when I leave, I'm going to be the same me that went in, and I've learned that since I was a younger person, and that's why I don't even think about it.
I just look at it as people, and this is my assignment, and I'm going to go and do my assignment well. Pastor Winston says that, and that's the pastor that I go to, Dr. Winston from the Living Word Christian Center. He said something so powerful for me, and he really, really spoke about how I am in life and what my path was. He says that there is a mechanism that's not in the church that will ignite God's glory inside of you. I just thought that was such a profound statement because God's glory inside of us is His attributes. Usually, when His attributes, which is His glory, shows up in the earth, it shows up through something that you're graced with, something that's great about you like when a dancer dances a beautiful line. That's God's glory in the earth.
We see something that is beautiful, and you just go, wow, that's breathtaking! That's an attribute of God; or when a tree grows or when somebody's voice sings a great operatic note, you just go, wow! That's His attributes. Whenever I go out and I get a chance to do something that I wouldn't do or I learned something in a secular system that I can come back and apply in the kingdom, that is waking up something in me that wouldn't have woken in church.
You can't learn how to produce great records in church because they don't (or rarely) have studios. Sometimes the best engineers are not in the church. They're somewhere else where you can go and learn great things, and you can come back and make the kingdom great. I've learned that, and that statement stays with me, that there's a mechanism that's not in the church that will awaken God's glory inside you. That's really what happened to me. I learned how to produce and be who I am outside of the church, and I got to do it with some of the top people because that's where they were, and He needed to send me there so I could come back here and be who I am now. I just always thought that was a powerful statement.
John: Donald Lawrence, 20th year anniversary. I'm excited. Congratulations, my friend, and may God bless you, and let's hope for another 20 years.
Donald: Thank you.
John: God bless you, brother.
Donald: God bless you as well.