"Tell us what we want, or we will beat you. You might as well tell us now and save yourself."
The story of Maryam Rostampour and Marziyeh Amirizadeh is not just a story isolated unto itself. It's not just a story about two young missionaries in a highly politizied country. It's not just a story of the persecuted church.
But it's my story.
It's your story.
It's the story of what Christ is doing through His precious Bride. The Church.
In their new book, Captive in Iran, Maryam and Marziyeh recount their 259 days in Evin, the notorious Tehran prison. Here, prisoners are routinely tortured, abused, and violated. Executions are frequent and sudden. But for these two women, this hell on earth was a place of unlikely grace as they reflected God's love and compassion to their fellow prisoners and guards. Against all odds, Evin would become the only church many of them had ever known. It's an amazing story of unyielding faith—when denying God would have meant freedom. Of incredible support from strangers around the world who fought for the women's release. And of bringing God's light into one of the world's darkest places—giving hope to those who had lost everything, and showing love to those in despair.
I had the privilege to sit down and converse with Maryam and Marziyeh about their life of pursuing Christ.
John: Ladies, what an honor it is for me to talk with you. I'm very thankful to you for giving us the opportunity to dig into what's been going on in your lives. Obviously, you have a book that tells the entire story of what took place and your activities. When I was going through it, I was amazed that, ultimately, this is a God story. I'm wondering, maybe, before we get into some of the specifics of that story, if either one of you, or both, could share with me, and the folks who read this blog, what is it like growing up in the Middle East? What is it like growing up in Iran as a child? What are some of your favorite childhood memories?
Marziyeh: Thank you, John; it's really a blessing for both of us to share. Whenever we share, we consider it an opportunity to be a tool in God's hands and we really appreciate you having us. About life in the Middle East, we both were raised in Muslim families and, as you know, Iran is an Islamic country. In our country, religious laws and regulations always stop people from knowing the truth. But, I can say that there are some differences between countries like Iran or other Islamic countries like Afghanistan, Pakistan and Egypt. It's not the same; especially the way that the people follow the rules and the religious laws.
In Iran, most people are not real Muslims and they don't believe in Islam. In fact, they are tired of these Islamic rules and believe that Islam is not their religion, but is forced on them. Most of them don't know anything about the Koran or its teachings, and it might surprise you to know that they are very open to hear about Jesus and the message of salvation. That's the difference between Muslims in Iran and Muslims in other countries. But, the government usually tries to force people to follow the old religious rules.
I remember from childhood we had to follow these rules. For example, at school, students were forced to read the Koran or other Islamic books or pray in a mosque that is in Arabic. And they didn't let the student's learn about other religions, especially Christianity. And all we were told at school was that Jesus was the prophet of love and peace, nothing more. It was not just about Islam and Christianity; they don't even let the students do research and learn about other religions either. We both remember that when we were children of about seven or eight years old, they would force us to stay in line and say things against the U.S. and Israel. They forced us to say, "Death to America. Death to Israel," before going to classes. At that time we were just children, we had no idea what we were saying, but these are the things that the government tried to force people to do even though they don't want to do this.
Maryam: And I can add one or two more sentences about that. As you know, women in Iran have less rights compared to men, because according to the Koran there are many verses which are about women and about their rights [or lack of]. About how a husband can punish his wife it she doesn't obey, and most of their rules are against women. Women usually have to wear a hijab, which most of the women don't believe in, and don't want to do. But, this Islamic government, they force them to wear Islamic cover.
John: Based on what you both just told me, is there a condition in Islamic countries, or, I guess it sounds like it's okay to be specific to Iran, that when people think of Christianity they think of America? Or if they think of Americans, they think of Christianity. In other words, are both of those words synonymous with each other?
Marziyeh: I can say that I usually teach people that Christianity is good for Western countries because they teach them that most Christians don't have hijab and don't follow Islamic rules, and they don't cover their hair. That's why they teach (because of this) that Christianity just belongs to Western countries.
John: So any Western country, not necessarily the United States?
Maryam: It's mostly about the United States. When they refer to the West, they refer to United States.
Marziyeh: Yes.
Maryam: And I remember I had this experience when I was talking to people about Jesus, especially young people. Some of them, their first question was, "Oh, so in Christianity, we are allowed to drink wine because in Bible it says that you are allowed to drink wine?" They like this about Christianity and they think that this is from the West.
Marziyeh: And also, they tell people who converted to Christianity that you are converted to Christianity because of this, these things, that you can drink as Maryam told or that women don't have hijab. And also in their worship, they dance--sometimes they dance. And they tell that most Iranian people who are converted to Christianity is not because of Jesus, it's because of freedom in Christianity.
John: Ladies, can you take a few moments to talk about how you were introduced to Christ?
Marziyeh: My story is a long story. Can I tell whole testimony or just briefly?
John: You can do whatever you would like.
Marziyeh: Okay, so Maryam said that about 10 years ago we both converted to Christianity, but at that time, we didn't know each other. It's been about 8 years we have known each other and we have lived together. As Maryam explained about Iran, we both grew up in an Islamic country and from my childhood I always loved God and wanted to find out more about His truth. I did everything to get closer to Him. Since I was born into a Muslim family, my only means of getting to know God was religious teachings among the Muslim and at school. But, I always had many questions that Islamic ideology and Sharia law [the moral code and religious law of Islam] could not answer for me.
The God who created me, He is like a father. He is closer to me than members of my family and I didn't believe the wrong belief that exists in Islam. Because in Islam, they teach people that God is one who rules over the human right and punishes them for their life of sin. I believe that that was a terrifying image of God. I didn't believe the daily mosque prayer bending several times in front of a God who was already in my heart. I had many questions like, "Why should I speak to my God in Arabic instead of my native language? Doesn't this God understand my native tongue? Why should I pray to Him as if He is a great leader or ruler over me? and Why should I cover myself in front of a God who created me?" There were many questions like this in my mind and the answer I was getting at school was not convincing me. Despite all of this reservation, I decided to follow my religious duties and told myself, "I may be wrong, and the truth will show itself to me one day in the future."
So I prayed in the mosque for two years with the prayer I used to with the Koran. And even would wake up in the middle of the night and pray to Him again. But this type of prayer and worshipping were not making me feel any closer to my God. On the contrary, they were distancing me further from Him as they had become a routine action that I was forced to do, not that I wanted to do. And I remember before I converted to Christianity, I had a dream and God spoke to me through my dream.
In that dream I was praying to the sky, suddenly the sky opened and a white horse came down and it spoke to me, and it said, "Sit on my back." When I obeyed, the horse took me to a city where they were just coming out of the mosque.
At first, they couldn't see me, or the horse, but suddenly the Muslim worshipers were revealed as wild animals with savage features. As soon as I saw them, they could see me, and they tried to kill me. So the horse ran like the wind to save me and I remember as I held its neck I felt its love pouring into me with the power and purity I have never known. After that, we were safe. I awoke but I couldn't explain how much love God let me touch in that dream. I've never touched love like this before.
After this dream, I decided to put aside my religion and came to the conclusion that the most important part of being a believer is just my heart. Then I began to speak to my God in the way of a relationship between a father and a child. And one day I heard, at that time, one day I heard (from my friend who had converted to Christianity) about Jesus. That Jesus is the Son of God who has come to this Earth for us, for freedom from our sin. At that point, I became very curious, because I haven't heard anything like that about Jesus. I just thought He was just another prophet as He had been introduced to us in our textbook at school.
John: I want to interrupt here. Did the idea of having a personal relationship with Jesus scare you, to some extent, because it's so contrary to how you were raised?
Marziyeh: No, it doesn't scare me. But I didn't know anything like that, I didn't hear anything like that about Jesus. Because I just thought He was only another prophet, because in our school they teach us Jesus is just a prophet.
John: But He was not Mohammed? I mean, there is something very …
Marziyeh: They teach us He is a prophet, but not like Mohammed. In Islam they believe that Mohammed is the best and perfect prophet and that you cannot compare Mohammed with any other prophet. And that's why I became very curious about this. I told myself, "How do I know Jesus is the truth?" It was the first time I heard that about Jesus, that Jesus is not a prophet, but that He is the Son of God. So I decided to study other religions and also I began to read the Bible because I wanted to find the truth. But, after awhile I realized that I could not possibly spend many years to study all religions of the world because there are many religions in this world, even in Christianity. I just decided, I just knelt and prayed and told God, "Please show me the truth because if Jesus is the truth, you must guide me to the right path and save me from being misguided. Because I don't know what is the truth in this world. You are my God, you created me and you know what is the truth."
After this praying, at that time, if I want to tell the whole story it's long. But, I had a disease and for the first time I was invited by my friend who told me about Jesus to a church. It was the first time, first experience that I was in a church and it was very interesting for me because people were worshipping in joy and praying in their own language. And during the worship, suddenly, I heard the voice in my heart that told me Marzi, you are healed, Marzi, you are healed. I wanted to ignore it, but I told my friend, and she told me, "That is Jesus and he can heal you."
And later at the medical appointment--that day I had a medical appointment too--when I went to my doctor's office, when he wanted to write my prescription, he couldn't. He put his pen down and told me, "I don't know why I cannot write anything for you. Come back another time." I wanted to insist him, but God reminded me of His message in the church and told me to trust Him. He had healed me, but I didn't believe Him. I didn't fully believe in Him because the healing was not enough proof for me. I just asked God to show me more about Himself and I wanted to be sure about this. Actually, at the bottom of my heart I had begun to believe in Jesus. But, still I had some doubt. For example, I had read the Bible but I had some doubts about Holy Spirit. What is the Holy Spirit? I couldn't accept it; I didn't believe it.
I remember one day I was praying, and suddenly the flames of the Holy Spirit came on to me and I received it and I began to pray in tongues. I couldn't know what had happened to me. I didn't know the meaning of my words but I could fully understand what I was telling to my God. And at that time, I remember while I was crying, suddenly I saw Jesus in front of me who was standing next to a large throne, which was covered with shining gold. And at that time, I wasn't on the earth, and the middle of my forehead was burning as though someone had branded it. Suddenly, all my doubts disappeared and I felt that God had removed the curtain before my eyes and now I could see the truth. I couldn't stop my tongue and just kept worshipping Him and I remember it was 12 at night until four in the morning. I kept praying and singing the song of praise nonstop. It was like a spiritual lovemaking that I didn't want to end, but I couldn't control it. By about four in the morning, I stopped praying, but what had happened to me was so incredible that I couldn't describe it.
I always tell people that no one had forced me into anything or manipulated me. No one had cast a spell on me or hypnotized me. The explanation that I could legitimately derive from that experience was that I had met my God through the Lord Jesus Christ. From that day on, I dedicated all my life to Jesus and it's been many difficult years with Him. During these years, I had many stories and dreams about God that each one is a long story. But I always tell that Jesus was the only person with me, every single day during the lonely life I had. And even without going to a church, I always have long walks with Him. He is next to me and He has been my guide in my life.
After that, at that time, I was working in a beauty salon and I had earned a trainer and management degree for training new hairdressers. I had this passion from the day I converted; I had this passion to talk with people about Jesus. After that, some of my friends suggested to me to start my own business. But I wasn't interested in that because I believe my calling with people is their heart not their hair. So I quit my job, and after one of my friends suggested theology, I traded a certain future for the unknown because I had this passion to follow Jesus.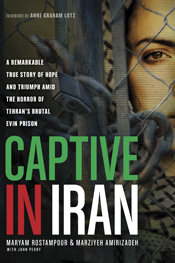 John: Were both of you ladies in Iran when you became Christians?
Marziyeh: Yes.
John: Is it different for a man than a woman being a Christian in Iran?
Maryam: Because women's situations are different than men's in Iran, we believe that women are more open to hearing about Jesus and the message of Christianity. This is because in Islam they don't have equal rights with men. There are many Iran rules in the Koran about women, like temporary marriage. I don't know if you have heard about this. Men can have a wife and also they can have temporary marriage. They can marry a woman for a few hours, for a week or a few months. They just sign a contract, they spend time with the woman, and after the contract expires, they are not together.
And there are also many other rules that men have. Husbands can beat their wives and [it says] that the wife needs to obey her husband. Because of all these wrong rules in Islam, especially for women, the women are more open to hearing about Jesus. They are tired of these rules and they don't want to follow these rules. But I cannot say that men are not eager to hear about Christianity, too. They're also open to hearing about Christianity; but in comparison, women, we believe, are more eager to hear because of all the Islamic rules against women.
John: Obviously, your story centers around the fact that the two of you started a couple of house churches that were underground. One was for prostitutes and the other one was for women. So both of them for women, but one was for prostitutes, specifically?
Marziyeh: No, the second one was for young people, women and even some men.
John: Oh, for young women and men. Okay, all right.
Maryam: Especially for young people.
John: Okay, like college age or even younger?
Maryam: Yes.
Marziyeh: Yes.
John: Yes, college. Then you were both turned in and you went to prison for almost a year? And not just any prison, but you went to one of the most severe prisons in Iran, in Tehran there, correct?
Maryam: Yes.
John: What was the most difficult part of being in prison?
Maryam: Prison is prison, and going to prison is not a pleasant experience for anyone. From the first day we suffered from many physical and mental tortures. For the first 14 days we were in a detention, which was in the basement and we had to spend our time with women who were prostitutes, addicted and homeless. The women who ran away from their homes… they sent us to that detention. We had to sleep on the ground. There were no carpets and we couldn't eat for five days, for the first five days we didn't eat at all.
Also, in Iran prisons, the situation is very difficult. Not just for political prisoners but for all prisoners. For example, there is not enough medical care and there is no doctor in prison. We could be, for nine months we suffered from different kinds of physical diseases but we were not allowed to see a doctor. Especially when they heard that we were Christians, they did not let us to see doctor. Most of the time we were under pressure and we believe that mental torture is even worse than physical torture. They sent us to a building, which is called 209 for interrogation. For 20 days we were not together and once a week we were being interrogated by two interrogators for long hours. We had to sit on chairs facing the wall blindfolded. These are all pressures that we suffered in prison.
But our most painful experience in prison was executions of prisoners with whom we were living every day; we had never experienced such a thing, it was so horrible. After those executions, we could feel the spirit of sorrow and death. We couldn't say anything, we were just, we were shocked and we stared at each other but we had no power to speak. That was the most difficult experience for us in prison. Especially after prison, because when we got released, they executed one of our best friends and that was a shock for both of us.
Marziyeh: And also, you know our situation in comparison with other prisoners was worse because we were Christian. We were not allowed to use other facilities that there are in prison. For example, there were some classes. I cannot say it was good classes, but there was a center in prison that each prisoner could go to every day and participate in some classes. But when they heard that we are Christians they told us, "You are not allowed to come here. You are dirty. You are Christian. Because you have converted to Christianity, you are dirty." The managers talked with me very bad and she told me, "You should be executed. You shouldn't be here because you manipulate the mind of other prisoners. That's why we don't allow you to come here." In most situations, like Maryam explained about the clinic, about these places, our rights were less than other prisoners.
John: How does one share the gospel story in an Islamic culture?
Maryam: We had this experience in New York after we finished the study in theology in 2005. We returned to Iran and we had this passion to go back and talk to our people about Jesus, because we knew how much they were thirsty to hear and how much they needed Jesus as their savior. I can say that when we were in prison, we were trying to, when we wanted to evangelize to people, we wanted to share our own testimony because we were from the same background. We were from Muslim countries and they would listen to us when they heard that we were from a Muslim background and our situation was the same as theirs.
Sometimes some of our American friends ask us, "How do you evangelize to people and how can we evangelize to Muslims?" We always tell people, it's better for a Muslim to hear about Jesus from a Muslim background person who converted to Christianity because they can see the changes in our life. They could see how Jesus revealed himself to us and it had a great impact on them and they would listen to us. But if a person, for example, from Europe or America goes and talks to people in Iran, they wouldn't listen as much as they listen to both of us. Usually, I share our own testimonies and how Jesus revealed himself to us.
John: Switching gears just a little bit. What do you ladies think of the church here in the West? Or, specifically, here in the United States? Is the church healthy here?
Maryam: We had different experiences here. When we moved here we understood that there are different denominations here and the churches are different. That teachings in churches are different from each other too. In Iran, there was just one official reading that the pastor was preaching in Farsi [a widely spoken Persian language, primarily spoken in Iran] and we could attend that church. But when we moved here, we observed that there are many churches, many denominations. We had both good experiences and sometimes not very pleasant experiences because of some teachings. Some churches, we believe they are just following the rules and in some churches we could see that people and believers are not--how can I say it?--alive. We couldn't feel the presence of the Holy Spirit in some churches.
But, we had very good experiences also in other churches. We were in a church recently and we told the pastor that it was good that we came to their church because we could feel the presence of the Holy Spirit. We met with many believers; some of them are really an encouragement and blessing to both of us. I can say that it's different. Some Christians here are just believers. They are Christians because they are born as a Christian, like Muslims in Iran, they are born as a Muslim. There is a difference between a person who calls himself or herself a Christian or a person who is really a believer and had some personal experience with Jesus.
John: I've heard it said before that the persecuted church, that brothers and sisters in Christ who are being persecuted for their faith in other countries are praying, to some extent--and take this in the right way--that those of us who are in the church here in the West become persecuted, because then we would live a more authentic Christian life. Do you feel a similar thought or ideal when you think of the church here in the West? Are we authentic? Is the church passionate enough for the glory of Christ?
Marziyeh: In our country, I can say sometimes persecution helps. For example, in our country they say because of persecution many people came to Christianity because they don't have any hope. They are hopeless and they are disappointed. It helps to have a good relationship with God. What about here…? We heard in some churches that they believe that America needs persecution because people need persecution to have a good relationship with God. But, I don't believe that we should pray for persecution.
In America, there is freedom, and Maryam explains that many people are born as a Christian. People should have a live relationship with Jesus, they should have a personal relationship with him. Most of the Christians here are born as a Christian, and they don't touch Jesus in their life, it seems. They don't have personal experience with Him. But I don't believe that persecution can help these people or that we should pray for persecution. I don't believe it's correct.
Maryam: And also I think, I have this question because in some churches the pastor asked us, "If you need to pray for persecution, come to our churches." But I don't believe we need to pray for persecution and we don't need to wait for persecution to come to change ourselves. These days we can hear the news about Middle East, about countries like Iran. There are many examples like Marzi and I, and other people who are in prison. These days an American pastor is in prison and many people, thousands of people hear the story. Why should we wait for persecution to come? There are many examples around us, we can look at them, we can start changing by just knowing that we cannot always be free, we cannot always worship God in freedom. There may be some time in our life that we will experience persecution. Persecution is not just going to free them. We all have difficulties in our own life and I don't agree that they need to pray for persecution to come.
John: Amen. The truth is is that the persecuted church is still very much part of the church that I belong too. We are the body of Christ and if the church is persecuted anywhere, all of us should be on our knees praying for our brothers and sisters.
Maryam: Exactly.
Marziyeh: Yes.
John: Ladies, how can those of us who are reading this blog or reading your book, or how can the church here in the United States be praying for our brothers and sisters in Iran? What is the biggest need?
Marziyeh: There in Iran, there are many Christians who are still there in the prison, like Saeed Abedini, I'm sure that you heard about him, and also Farshid Fathi, and there are also Christians. After we got released we heard the Iranian government arrested many Christian groups. We don't know all of their names, but as you mentioned earlier we are all part of a body, one body in Jesus, and we should be responsible for those who are still suffering. We can pray for them. Maryam and I, when we were in prison, we could feel the power of these prayers and we have, we believe that we have power in our prayers and that we can change many things with our prayers.
And also, it's very important to send letters to prison. When we were in prison, we heard from guards every day, we received about 50 letters and they told us that your letter is more than our official letters. And this kind of support scares Iranian government because they knew that Christians all around the world were uniting. And Christian people who are in prison are not alone. Because of all the pressure, they are scared to continue their cruelty. And also, it's very important to inform other international organizations, people who work for human rights like the United Nation and embassies. Also, when we were in prison, we heard that the Pope from the Vatican sent a letter to the Iranian government, and that all of this activity scared this government that kept us in prison. We believe that when the public speaks out, it makes a huge difference.
John: How can we be in prayer for you ladies?
Maryam: We would like to ask you to pray for our families. They are still in Iran and we usually ask readers to pray for them. Also, here after publishing the book, we are under pressure from some attacks. Whenever we start a new mission, we have felt these attacks from Satan. When we were in Iran, we wanted to start our house churches or start distributing the Bible, and we had some attacks. Here also… it's been three weeks since our book was published and we can feel these attacks, and we just need to be focused on our mission. We don't want to be focused on the enemy. We want God to strengthen us so we can be focused on what He wants us to do.
Captive In Iran by Maryam Rostampour and Marziyeh Amirizadeh
Download the first chapter from Captive in Iran by clicking here.